Voyagers® Zambia Newsletter |
10/10/2013

Independence Weekend escape to Lake Tanganyika
24 - 27 October on Lake Tanganyika! Flights from Ndola to Kasaba Bay airstrip!
(Optional connections from Solwezi and Lusaka into Ndola on request.)
Voyagers® is proud to present an exclusive package in cooperation with the famous Ndole Bay Lodge located on the shores of the magnificent Lake Tanganyika.
Rates start at ZMW 5,290 per person sharing. For more details and enquiries click here.
Flight will leave Ndola in the morning to give you the maximum amount of time at the lodge and on the lake. As a Voyagers® exclusive add-on there is a free sunset dhow cruise with complimentary cocktails and a free adventure snorkel trip with Tanganyika cichlid collection station interpretive visit included in the package.
With a lot of activities available at the lodge, this is a not-to-be-missed special!!!
Enjoy a couple of days of rest.
The charter plane will leave for Ndola late Sunday morning in order to have you home in the early afternoon.
For more details and bookings click here or send an eMail to tours@voyagerszambia.com
---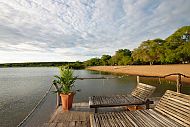 Weekend special in Ndole Bay lodge
3 nights full board accommodation at Lake Tanganyika in Standard ensuite chalets with a lot of free activities
A special package for
Voyagers®
clients - flights from Ndola to Lake Tanganyika and return
24 - 27 October 2013
---