Voyagers® Zambia Newsletter |
14/09/2014

Last chance special to spend this weekend on Zambia's best beach at Ndole Bay Lodge, Lake Tanganyika, Zambia!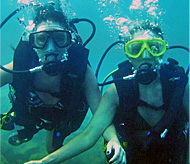 Keen on a spot of fishing or want to get the adrenaline rushing with a SCUBA dive in Africa's longest and deepest lake?
Prefer to relax on the beach with an icy cocktail in between cools dips in the crystal clear waters?
Treat you special other half to a romantic getaway in a private beachfront chalet?
Need to get out of town and away from the heat and dust!?
Want to experience a National Park with not another soul in sight?
---

3 nights getaway
... to the exquisite Lake Tanganyika
Ndole Bay Lodge and Voyagers® Zambia are offering a 3 night getaway to the exquisite Lake Tanganyika this weekend.
For K7,170 for a deluxe beach front suite or K6.063 for a private chalet you can be there in just 2 hours from the Copperbelt, or connect from Lusaka on a short hop flight.
Departing on Friday the 19th of September and returning on Monday the 22nd from Ndola you get:
Return flights from Ndola and return transfers to Ndole Bay Lodge All meals and accommodation at Ndole Bay Lodge Free sunset dhow trip Beach bonfire and dinner on last night VAT, SC, library, laundry, kayaks, lodge snorkeling included.
EXCLUDES:
Bar
Additional activities/excursions as per pricing attached
Visit www.ndolebaylodge.com to see what you don't want to miss or contact tours@voyagerszambia.com to book now!
An area of "unsurpassed beauty" David Livingstone on Lake Tanganyika
---