Voyagers® Zambia Newsletter |
07/05/2015

This is to alert you that effective 01 JUNE 2015, the attached immigration requirements of the Republic of South Africa, when travelling with Children, will apply.
The different requirements are in different scenarios when a child is travelling;

✓with both parents
✓with only one parent
✓with non-biological parents and
✓unaccompanied

Please ensure you have all correct documents before travel.
Please do not hesitate to contact the Voyagers® team for any further assistance.
Kind Regards,
The Voyagers® Team.
---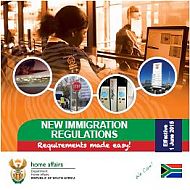 South Africa Immigration Rule for pax travelling with Children
Please click here to
---